Creating a New Directory Page
To Create a New Directory Page
From the New Content drop-down menu (or from your dashboard), select Directory Page

Change the Page Name to the desired name, select the Placement Folder, and enter the Display Name and Title (remember the naming conventions). The title is required otherwise people's names will not appear on the detail page.

If you wish to exclude this page from the left navigation, click the Exclude checkbox (this is rare).


The Introductory Paragraph Option
By default, the Directory Page has the Intro Paragraph set to No.
If you would like an introductory paragraph at the top of the directory page, select Yes.
 


When you select Yes, a WYSIWYG block will appear where you can type in introductory text that will appear below the page title and before the directory feed(s).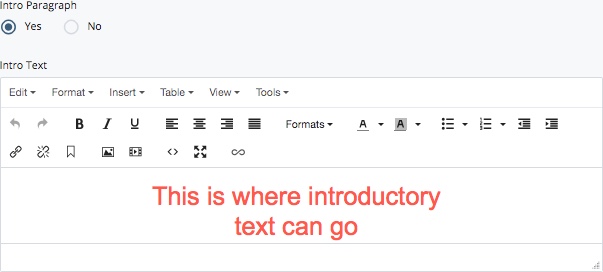 Page Design (Layout options)
In the Page Layout area, there are three options for page design: List Layout, Tiled Layout, and Table Layout. The default page design is List Layout. 


The List Layout displays the directory feed in a single column



The Tiled Layout design is a tiled grid that displays four columns of data (if there are at least 4 people)




The Table Layout design displays data in a table with rows and columns



People and Information to Display - Automated Directory Feed
In the People and Information to Display area, the default option is to Use Automated Feed(s). This will feed information from the Campus Directory based on the options you indicate. Alternatively, you can choose the feed option Create My Own List of People to Display. This feature enables you to customize the listed individuals in the directory.


When the Use Automated Feed(s) option is selected in the People and Information to Display area, select the criteria checkbox(es) for the People Types (Faculty Types, Staff Types, and/or Graduate Students) to appear in the directory feed. The resulting directory page will feed in those individuals with the selected people type(s) and will list the directory in A to Z order by last name, first name.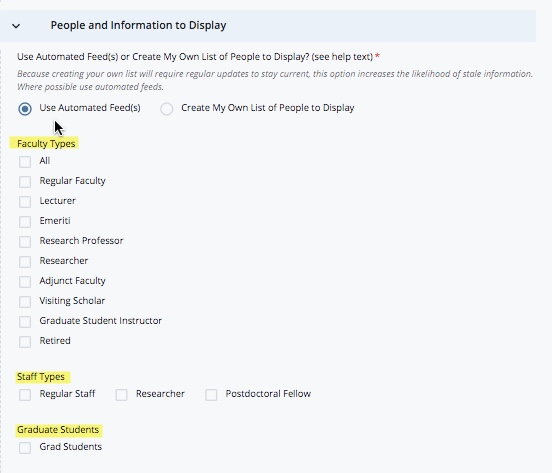 Note: If you wish to have the directory page list people by Type you can set up sections, and within each section designate the people type(s) you wish to include. To create separate sections, set the option to Organize People Into Separate Sections to Yes (in the Page Layout section) and then enter a Section Name. For example, you can have a section for Regular Faculty, another section for Lecturers, and another for Staff etc. You can also create multiple directory pages for each of these types as well.
When you click Submit, you will be presented with a display of all of the different options you selected for that page:
Because this is a page with a feed, we are unable to display the contents INSIDE the WCMS application. 
Review your selection and Publish. View your page in your website to review.